Friday, June 02, 2006
It took two weeks, but I did it. I am finally current with my photos, and after this mini-post is online, I will have no pictures sitting in my collection, waiting to be posted. Of course this Saturday I'm going to Takehara, Sunday is a sports day, and then Monday is a sports day practice and teacher's party, so this is short lived. But for now, here are the last ones.
First, no big surprises, more sports day practice, this time at Kinoe junior high. They have the school right on the water, and I love watching the boats go by while I should be paying more attemtion to the class.
Again, the awesome gym outfits, and the fast ferry in the background.
Tomoka Maeda - this girl is afflicted by some mysterious malady, and so does not participate in sports. Somehow she is almost fluent in English. Her tiny voice, thin hands, and general weakness give her malady a very classical victorian feel. In my mind she has something with a dramatic archaic name, like consumption.
Then it was my birthday party! I turned a big 23 years old, and Mori and his friends threw me a party. It was a really fantastic time, one of the best birthday parties I've ever had, and while I took a lot of pictures, some more incriminating than others, I'll just post a few. I was struggling with this, because there are some pictures I like, but it seems silly to blog your birthday party on what is otherwise a blog about living in Japan. I guess this is a part of that, so here are a few.
Party food, Japan style. Japan has some of the most delicious draft beer. It's called
nama
beer, literally "raw beer."
The old man in question.
The party-thrower.
After the restaurant, we went to a bar. It was actually this guy's birthday too. Same age, same day. My Japanese twin brother.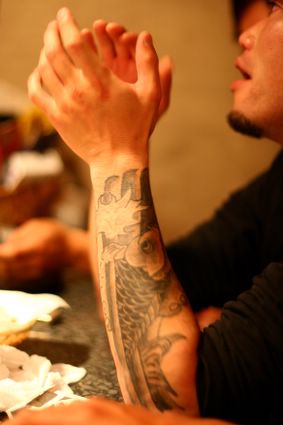 Takenobu's awesome ink.
Then things started getting silly. The
mama-san
sent us over a bottle of wine as a birthday present, we started drinking higballs, and the karaoke controller started passing around. Soon, we were from laughing and having a good time to this:
That pretty much sums up the evening.
From there it all gets a little fuzzy in my mind. Someone from the bar drove us to another bar, and I took some pictures.
More drinks were had, some people fell asleep where they sat, and then we got a ride home at around three in the morning.
Towards the end of the night - staggering to the inevitable hangover.
And that's recent events. Today I got home and my cat has been making a habit of watching me come up the steps and then timing her escape with the moment I open the door. Usually I am carrying camera, bag, groceries, and some other stuff, so I am in no position to stop her. She doesn't go far, and so I followed with the camer after I put my stuff down.
After a little exciting looking around on her part, I brought her back inside.
Where she showed her true stripes as a cute but lazy cat.
Guest comment from Leila: do you notice that there are FOUR pairs of scissors in the picture of neko yawning? why do you need four pairs?
Next post will be on Monday or Tuesday depending on the pictures I have from the weekend. Don't forget - the map!